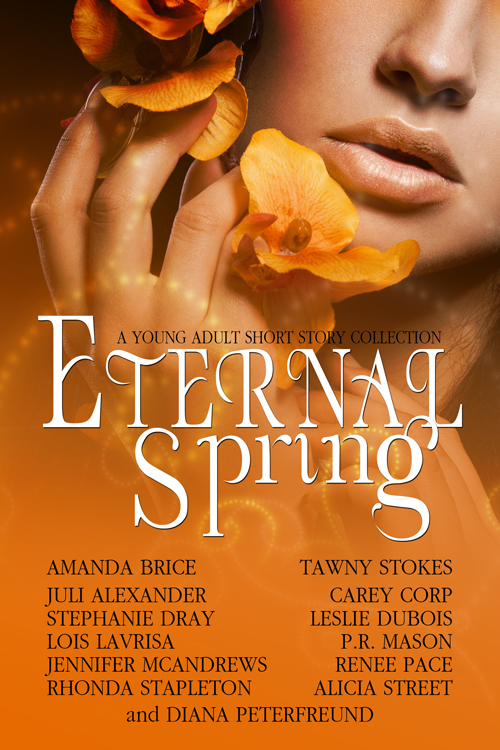 Title: Eternal Spring
Author: Anthology; 13 Authors of Young Adult Genre
Format: PDF
Pages: 180
Eternal Spring is an anthology of stories written primarly for the Young Adult audience. Even so, as a 40 something, I found it to be quite a delightful read.
Camp Cauldron by Juli Alexander—Emma finds herself a counselor at a camp, for wayward witches. That's right, she' not your typical teenage girl. Emma has no hope of finding a boyfriend while taking care of children…or does she?
Emma's best friend Sophie gets caught sneaking out of the house to go out. This leads to Sophie becoming counselfor at "Smack Camp" (Spring Supplemental Magic Management Camp) In trying to keep from telling Emma's dad why Emma is not going on her Spring Break trip as planned, Mom inadvertenly gets Emma into "Smack Camp." What a waste, thinks Emma.
Emma meets new kids, including Ian, a counselor for the first time also. Camp Cauldron takes us through some hnilarious and somewhat sad scenarios of kids with powers, and how using self-serving magic can have rather interesting results.
I would have to give Camp Cauldron a solid ****'s. It was laugh out loud funny, and also quite touching. I would definintely read more from author Juli Alexander.
Barre Hopping at Midnight by Amanda Brice. This is story 2.5 of the Dani Spevak Mystery Series. Barre Hopping is a delightful spoof of a sort of Twilight by Stephanie Myers. The blatent references of Midnight and Bethany Byers make for laugh out loud funny. Dani's boyfriend, not boyfriend, she's not sure what he really is to her, is playing the role of one of the two male leads from the book turned movie, "Midnight", and Dani knows he'll be busy.
Dani discovers that Craig will be in Sedona, as will she at the same time. He is filming there, were the story in the book took place, and Dani will be at the Southwestern Teen Arts Festival. After doing their performance, Dani and several of her friends decide to go to Snoopy Rock to where Craig and his costar Amber are to fill part of the movie.
Amber is found, injured and unconcious and the girls must get her back to town, carrying her unconious body…
I givec this a *** ¾ rating. It was fun, and stood alone quite well. I have not read any of the other Dani Spevak books as of yet, but felt I could get to know Dani quite well in the short amount of time Ms. Brice had to let us delve into her life of dancing and mysteries. Read Barre Hopping at Midnight is you want a quick, quirky mystery from a teen girl's point of view.
There are eleven more stories that make up this anthology and I found that overall, they were quick, fun reads. Whether you are a teen age girl, a middle aged person, or even a faboulous gray-haired, you'll enjoy Eternal Spring and the authors who wrote the stories. I have found a number of new authors to consider, and can easily see myself reading more from these young adult authors, with no reservations.
I give Eternal Spring an overall rating of **** as the stories are all quite solid. A few were a little too quirky at times for me, but all of them would be appealing to the majority of readers in the demographics that the authors are trying to reach.
DISCLAIMER: I received an Advanced Reader's Copy (ARC) to review. Only an honest review is expected.
PS: This book is free at Smashwords. Just so ya know.